2022 Latest Design, quick absorbs and locks Liquids and keep your underwear dry, traps smells all the day!
Say goodbye to accidental HEAVY period leakages and heavy maternity bleeding that stains your bedsheets.
How do Leakproof Panties Work?
Our panties come with three layers of leak-proof protection material:
Close to skin: Comfortable Fabric Layer
We make our panties of 92% cotton and 8% spandex to give you ultimate comfort, dry, with Maximum Coverage.
Middle: Hygroscopic and Leakproof Layer
2022 Latest development of leak-proof materials, Quick absorbs 30-50 mL of liquid and locks them in, which is equivalent to 2-3 standard tampons or pads.
And keep your panties dry all day!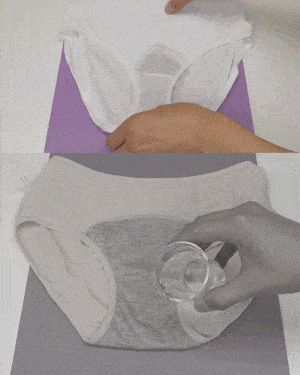 Outermost Layer: Breathable Antibacterial Layer
Panties from odor-suppressing textile that keeps all your smells from spreading.24 hours strong antibacterial, close protection, away from itching
Washable & Reusable
You don't need to worry about replacing your leak-proof panties because you can machine-wash them as many times as you want without losing their effectiveness.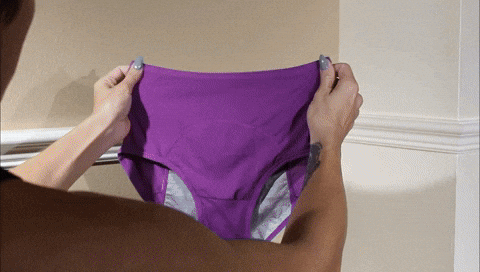 Too big to wear comfortable panties?
No need to worry as we are happy to offer you cool, comfortable leak-proof panties.
If you don't know the size of your underwear, you can order it by weight.
You can also order it according to the size chart.👇👇
SAVE THE PLANET. SAVE MONEY TOO.
Pads and tampons and applicators are the 5th most common plastic found floating in our oceans – that's so deadly for marine life.
Most women will use as many as 11,000 disposable menstrual pads and tampons in their lifetime!
Over 12 billion tampons and pads are thrown out, 90% of those are made from plastic that cannot be broken down.
It takes roughly 600 years for a tampon or pad to degrade in a landfill.
Our leakproof underwear lasts an average of 3 years which means you're personally eliminating thousands of unnecessarily tossed pads or tampons.
Best part? You're saving a bundle of money not buying all those indestructible pads or tampons.
TELL ME AGAIN -WHY GO LEAKPROOF?
It's simple; there isn't a better undie product on the market that gives you the kind of peace of mind our underwear can give.
✅Combat Smells. Feel Fresh and odor-free throughout your period.
✅Great Backup. The perfect partner to your menstrual cup, tampons, or pads.
✅Environmentally Friendly. Mindfully help to save the planet and save yourself money.
✅Stay Safe. Not sure when your period will start? Be 100% dry and ready anytime.
✅Prevent Leakage. Whether you're managing incontinence or light bladder leaks (LBL).
✅Live an Active Lifestyle. Stay dry, confident, and stress-free during sports and workouts.
Depending on your flow, Our Leakproof Underwear can replace pads, tampons, liners, & cups, or be worn with tampons and cups for extra protection.