High density foam golf ball
The swing track can be left after hitting the ball, can effectively analyze the pole drop point.
After you see the Mark left on the mat, *Your Swing Path*, you can instantly begin to correct your swing. This will help you correct your predominant swing path errors because Now You Can See It.!……" NO MORE GUESSING"……."Great Practice and Training Aid"
The Golf Training Mat employs a special technical fabric that is designed to leave a dark mark that shows you where your club head hit in relation to the ball.
It gives you instant feed back on exactly what your doing wrong. This gives you the ability to understand and know why your ball is going exactly where it is going and to make instantaneous changes to develop good swing path habits.
🔥93% Customer buy 2pcs to share with golf friends! Enjoy free shipment!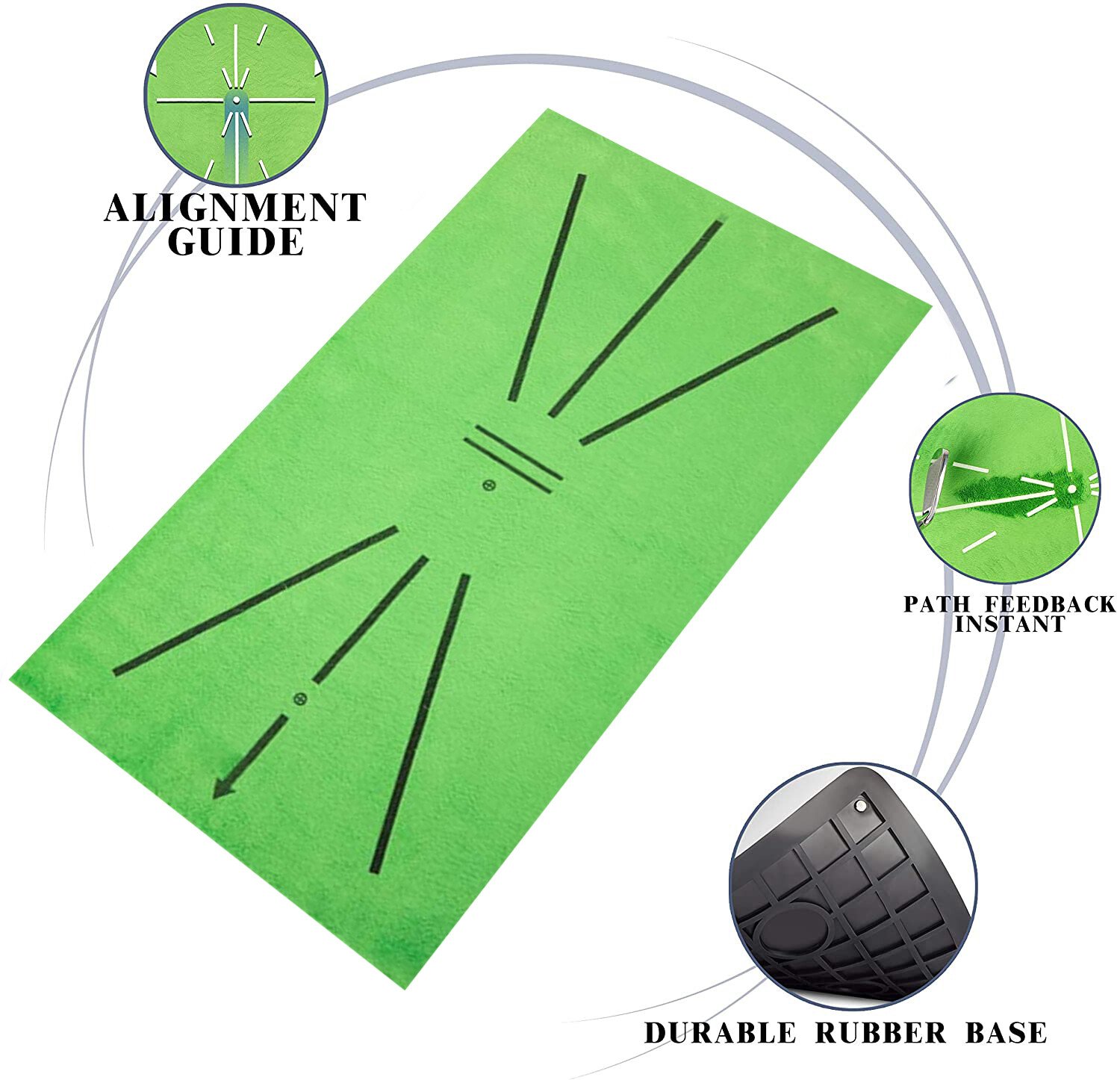 Features:
▲ Size: 30x60cm.
▲ Durable, easy to clean: durable, no signs of wear after playing many times, can be used as a substitute for golf enthusiasts.
▲ Golf course dedicated, use to teaching beginners.
▲ Applicable to: Office, home, corridor, school, indoor driving range can practice, convenient storage.
The marks left by the hit can be easily erased with the club.
Packaging:
1xGolf Training Mat
Customer Questions & Answers
Question: How does this putt feel and is it helpful to putt training?
Answer: This putter pad is my favorite so far. It is also of the best quality.There are three serving points,three consecutive putts at different distances are very helpful for my training.
Question:My son likes to use this mat on the muddy ground, it is easy to stain it, does it easy to clean?
Answer: It is so easy to clean! Compared to mats that simulate turf, it only needs to be sprayed with water and wiped with a cloth!
Question:Can it be rolled up for storage ?
Answer: Yes. It does not take up space and is very convenient to store.
Question:Is this suitable for outdoor use?
Answer: Of course! My husband often uses this golf mat to play golf games on the grass, concrete, and mud. It is convenient to carry, so he likes to take it out to play with his friends.
Thank you for being one of our valued customers.🎉