Cool Watch Inflatable Lighter!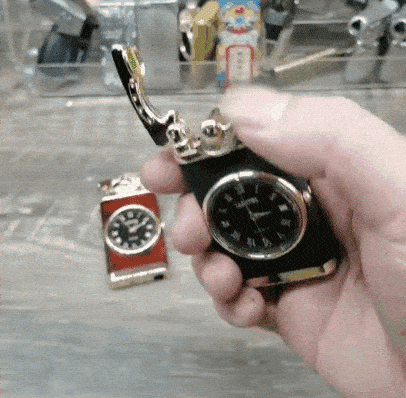 This lighter comes with fully automatic electronic ignition and built-in piezo ignition. It is safe and easy to use for all ages. The jet flames easily against any breeze. A lighter full metal casing is made of high-quality zinc alloy.
This lighter is formed with three-layers safety protection, slim and lightweight design and easy to put in your pocket. The 2 in 1 lighter is packed in an elegant gift box and is a great choice for Gifts.
ㅤ
It has an extreme powerful Flame: 1300 Celsius High-Temperature flame, ideal for igniting cigars, woods, melting metals, and more
Note:
Because of Gas can not board the plane ,so the lighter we send all no Gas,you need add Gas by your self.
WARNING
*Use away from face, body, clothing, metallic and flammable clothinG.
*DONoT puncture or use near open electric arc flame.
*DONoT please in sunlight for long periods of time.
*DONoT keep flame lit for more then 5 seconds at a time.
*Lighter areNoT toys- keep away from children.
*Use only in well ventilated area.
*Ensure the electric arc flame is extinguished after use.
*DONoT touch the arc, as it will result in burn or possible small shock.